World No Tobacco Day is celebrated on the 31st of May. This year, the NSW Multicultural Health Communication Service (MHCS) is working with the Cancer Institute NSW in running the 'Break the Habit' campaign for the Chinese speaking community. It urges smokers to make significant changes in their lives for their own health, and their families by calling the Chinese Quitline.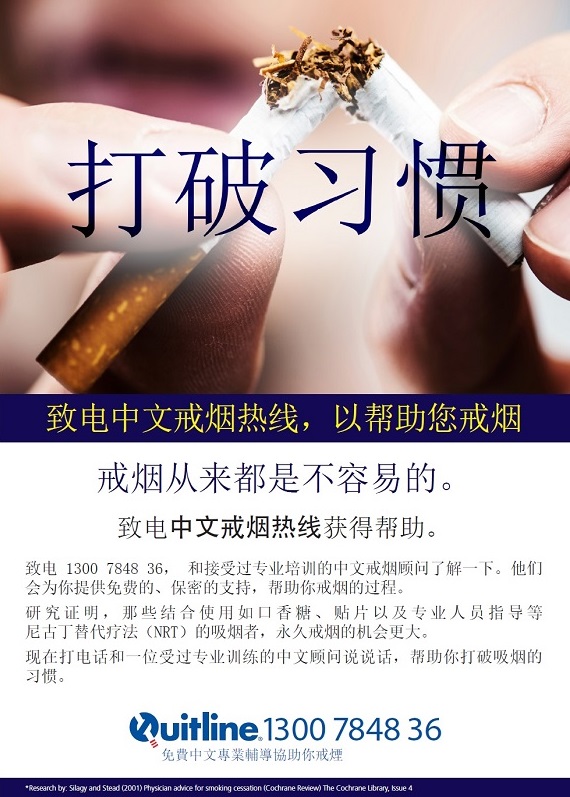 The high prevalence of smoking is having a serious impact on the Chinese speaking community, with smokers at an increased risk of heart disease, stroke and many cancers. Smoking rates among Chinese-born men in NSW is 20.3%, according to the NSW Population Health Survey in 2010.
"Stopping smoking is not easy, we believe that the Chinese Quitline can help smokers by providing them free and confidential support in their own language and help them plan their quit smoking journey" explained Peter Todaro, MHCS Director. "World No Tobacco Day is an ideal time to give the Chinese Quitline a call and get help in developing a personal program to quit."
The World Health Organisation recognises the prominent role of all health professionals in assisting smokers to quit; encouragement and brief advice from health professionals often lead to action.
The 'Break the Habit' campaign aims to contribute to decreasing the number of Chinese smokers in NSW by encouraging them to be the person in their community, family or friendship group that quits.
Call the Chinese Quitline on 1300 784 836 to speak with a professionally trained adviser, or check out icanquit.com.au for Chinese and English resources.